Accessories
Nighttable and Sky
added 05.05.2009, Manuel Kloker
---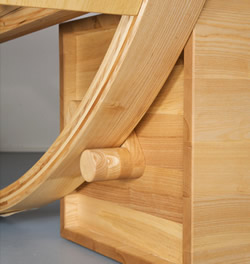 The Nighttable
only a nighttable?
Also the bed table is available as a aprt of the equipment. It is also able to fix Private Cloud. This function is not visible but effective. Studs are fixed on it, invisible engaging into the ellipse. This keeps the ellipse in the right position.
One doesn't have to crawl under the bed to fix it and the use of the bed table is much quicker than the use of the flexible feet.
It is available in oiled ash and smoaked oak wood.
More Pictures in the Gallery.
The Sky
The bed is getting unique
The sky is one of the biggest parts and gives the bed together with the linen it´s uniquie character.
You can choose between 300 different fabrics. Unicolor, coloured, patterned, transparant and opaque, diffenert styles for different tastes.
The sky is fixed with a velcro strip.Put it on and off is quite easy. For self made people we have a special sectional drawing on request.
Every bed contains one sky but you can order them additionally too.
To the Catalog.
Copyright 2009, www.mkloker.de