The Rocking Bed "Private Cloud"
Conzept, Design und Answers
added 16.04.2009, Manuel Kloker
---
Conzept
Why a Rocking Bed?
From ancient times we know, that nothing can calm down a baby as good as rocking and waving. You can watch this on mothers and children all over the world.
As an unborn you always hear the heartbeat of your mother. When you get born and get rocked, this is waking up the feeling of total protection, comfort and savety.
Different studies made clear that while one's rocking, the blood-brain barrier is broken through and the brain spills out messengers. Thereby the rocking person gets, by and by, into a kind of trance.

With this rocking bed even you as an adult are able to use this effect to relax, to chill out and to calm down.
More information here.
Design
and Functions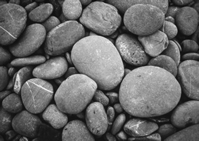 Out of the interplay of the "heaven", which is rolled over the bed, and the dynamic ellipses a special piece of furniture is arising and it invites you to do far more than only sleep. You are able to arrest the bed in different positions to find the right one for reading, lying or loving...
Only without any fixation Private Cloud is capable of unfolding all of its preferences. Rocking becalms, is fun and relaxes! Because of the special manufacturing technology of the ellipses the bed is able to carry up to six persons, even when it's rocking.
And no, you don't need anyone to rock the bed all of the time! Already by dangling the feet back an forth the bed gets going. The rollover is impossible, because the barycentre is always located underneath the angular point of the ellipse.
Getting seasick is only possible, when the movement of the bed is not influenced by oneself. Private Cloud turns every bedroom into a wellness oasis!
Pictures in the Gallery.
The flexible Feet
are part of every Private Cloud
With them you are able to arrest the bed to convert it into a "normal" bed without any swinging movement.
The feet are conected with an elastic string which are quickly to fix up and quickly to remove. They keep the bed save and stable.
Sloping Position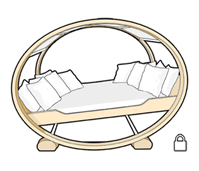 The flexible feet make it possible to fix the bed in any position. Whether reading, loving orwatching TV, Private Cloud is broading your horizon. Save, stable and without slipping away.
It's enough to lift one side of the bed to put it into the sloping position, the feet steady it at once and carry every position.
One more way to fix the bed is hidden in the night table. You can find it at the Accessories.
Photoquelle: www.picasa.de, Abbildungen: www.mkloker.de